Symbols
All members of Clan Ross distinguish themselves as such by using the following symbols:
Crest-badge
In the past a small metal plate with an image of the crest of the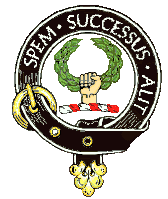 chief was used as badge. This plate then was fixed to a belt with buckle. Out of this custom the present crest-badge originates. The crest is part of the personal arms of the chief. Members of the clan only may use it in combination with the belt and buckle. This belt bears the motto of the chief. In the case of Clan Ross this is: Spem Successus Alit (Success Nourishes Hope).
Plant-badge
Before the use of the crest-badge came into fashion the plant badge was used to distinguish oneself as a member of a clan. On the -mostly- blue bonnet a few sprigs or leaves of the plant the clan used as badge were fixed. Most times this were plants of trees that could easily be found in the clan area.
In the case of Clan Ross this is the Juniper (Juniperus Communis -latin- or Aiteann -gaelic-). Nowadays the plant-badge can be used in combination with the crest-badge (see picture 2)
| | |
| --- | --- |
| | |
| picture 1. Juniper (Juniperus) | picture 2. Crest-badge with plant-badge |

Tartans
The most common tartans for Clan Ross are the:
A modern version that these days is becoming popular is the muted (weathered) hunting Ross tartan with nice green/brown hues.
Furthermore there is a dress version of the Ross Hunting Tartan.
In the course of time several versions of the Ross Tartans have been recorded. The versions showed here however are the best known versions and are commercially available. For more information regarding tartans and the use of it you can visit the Tartan Society web-site (see: http://www.tartans.scotland.net/)
Music
Musically Clan Ross distinguishes itself with the Earl of Ross's march. This march allegedly was written by Donald Mor MacCrimmon, the personal piper to Sir Roderick Mor MacLeod of Dunvegan. It's unknown to which earl of Ross it is dedicated to.
| | | |
| --- | --- | --- |
| | | click here to hear the urlar version of the Earl of Ross's March. |
Sheet-music of the Earl of Ross's March can be found at http://www.electricscotland.com/webclans/ntor/ross6.htm
Sources
The Clans and Tartans of Scotland; Robert Bain; 1966
The Clan Ross; Donald Mackinnon; 1957