George ROSS, son of David ROSS and Margaret BALFOUR, born Arbroath 10.03.1820, canvaswever and salecloth manufacturer, died Alblasserdam 20.07.1903.

He was married Arbroath 21.09.1840 to
Sarah MILNE, daughter of Alexander MILNE and Ann SHIELD, christened Arbroath 14.07.1818, died Alblasserdam 04.01.1887.

From this marriage:
1 : Margaret Balfour ROSS, born Coudekerque-Branche 24.07.1841, christened Arbroath 08.08.1841 (Church of Scotland), lived there 1863 9 West Mary Street, died there 01.05.1908.
She was married Arbroath 03.07.1863 (at 9 West Mary Street, by J.MacDougall, Minister of Ladyloan Church) (witnesses were Donald MacIntosh and Sarah Ross) to Thomas ESPLAN(ESPLIN), son of William ESPLAN and Anne SANDEMAN, born Arbroath 15.10.1840, lived there 1863 53 Millgate Loan, died there 29.05.1906.

The family lived at Arbroath, 26 Wallace Street.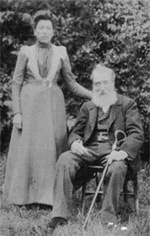 Mary Willeamena Ross (1860-1938) en George Ross (1820-1903)